PENJANA HRDF is a training programme initiative on how to generate employment and training opportunities that play an important role in resurgence after the outbreak of the COVID-19 in Malaysia. The government, through PENJANA, emphasises training in terms of reskilling and upskilling of Malaysians to enhance the employability of the unemployed.
These efforts are implemented through collaborations with various ministries and agencies. HRDF, through its qualified partners, aims to deliver the initiatives crafted as part of the short- to medium-term COVID-19 economic recovery plan, specifically related to job placement, entrepreneurship, self-employment and market-driven industrial revolution 4.0 training. SEGi College Kuala Lumpur as an HRDF training provider, is allowed to submit proposals under the PENJANA HRDF initiative to provide employment, skills training and job opportunities.
Training Collaborations
The School of Hospitality, Tourism, and Culinary Arts of SEGi College Kuala Lumpur, in partnership with several local training providers, have mobilised their efforts in empowering the B40 group which is increasingly affected due to the country's economic slowdown during this time of the coronavirus pandemic. The programmes we have designed will equip vulnerable employees from the B40 category with specific skills and knowledge through end-to-end training to up-skill and gain entrepreneurship skills and increase income in various industries.
Led by Mr Anand Raj, SEGi College Kuala Lumpur has successfully organised three training programmes under this initiative in collaboration with its partners. These programmes involve internal and external expertise in the fields of hospitality, entrepreneurship, and digital marketing.  The participants were exposed to knowledge that was mostly new to them. Some participants tried things they never thought of doing, such as creating their own business website and developing models for home-based businesses.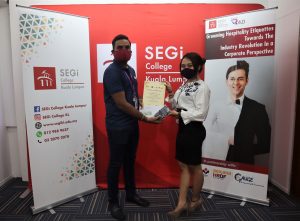 Grooming Hospitality Etiquettes For Industrial Revolution 4.0: In a Corporate Perspective.
SCKL, in partnership with Skills Gauge Training Centre, organised its first PENJANA HRDF program from 8th to 25th September 2020 entitled 'Grooming Hospitality Etiquette for Industrial Revolution 4.0: In a Corporate Perspective'. The programme was attended by 75 participants and was conducted in three groups for three weeks. This training was attended by participants from various backgrounds such as students, staff, and affected industry workers. In addition, participants were trained in self-development modules such as Hospitality 4.0, Technological Indulgence, Digital Transformation, Hospitality and French Culture, and Go Beyond Yourself throughout the programme.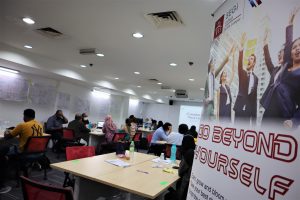 Go Beyond Yourself
After its first success, SEGi College Kuala Lumpur, in partnership with Success Edge Training Centre, continued community support by organising a training programme entitled "Go Beyond Yourself". Held from 30 November until 4 December 2020, this programme aims to help the B40 group recognise their inner potentials. The fifty participants who joined this 5-day programme were provided with knowledge related to communication skills, information technology skills, and social and dining etiquette.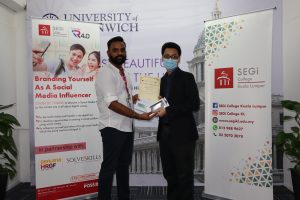 Branding Yourself As A Social Media Influencer
SEGi College Kuala Lumpur, in partnership with Solve Skills Training Centre, continued its third PENJANA HRDF programme titled "Branding Yourself as A Social Media Influencer." The programme ran from 14 to 18 December 2020 and was attended by 50 participants from different backgrounds. Most of them said that they had been economically affected and are unemployed. Some of them had been in the tourism and entertainment sectors and are now fighting for new skills and opportunities. Participants were exposed to knowledge related to communication skills, technopreneurship, business website development, and digital marketing through this programme.
Proud Achievements
We would like to take this opportunity to thank all those who have worked hard for the success of the PENJANA HRDF initiative programme by SCKL led by Mr Anand Raj. Many thanks to the technical team, marketing, instructors, and all support staff. The effort made has received recognition from all those who benefited from it. Here are some testimonials from the participants:
"I had a blast, and to be honest, this is the only programme that made me forget about the allowance and made me enjoy the class. Kudos to all the lecturer, and I'm happy that I made really great friends and connections. I would really love to see the entire group again for the next program. I'm definitely in @Anand sir; I already pre-booked my seat" – Vishanthan
"Thank you, Mr Anand, for this amazing opportunity, and thank you, everyone! It was great meeting all of you, and let's keep this network going! Stay safe everyone" – Subha
"Glad to know all of you engaging, colourful and lovely Malaysians!  Most importantly to Mr Anand  "Thank You!" for making this fruitful and fun-filled event a great success!  You brought out the best in us." – Suren
"Thanks a lot for all your arrangements. We are looking forward to meeting everyone again soon." – Herson
"Thank you very much for accepting me for the class from 2nd day onwards although missed the 1st Day class. Thanks again and wish you best of luck for your future program." – Prathaban