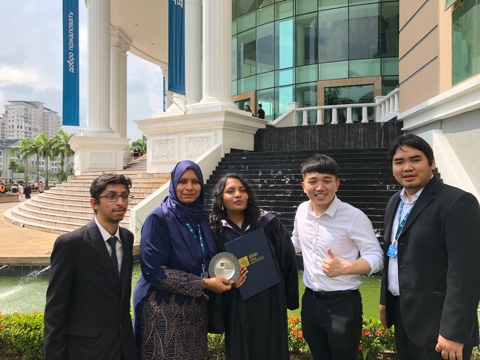 Ms. Bristi Khatun (in the middle) smiling proudly with her awards in hand during the SEGi University Convocation.
MAKING A NAME IN THE CULINARY FIELD
Heartiest congratulations to Ms. Bristi Khatun, SEGi's Hotel Management graduate, on receiving 'The Most Active Student Award' during the SEGi University Convocation on 14th November 2019!
The 'Most Active Student Award' recognises students for their contributions and dedication in extracurricular activities throughout their academic years in SEGi. The award acknowledges the effort, commitment and hard work put in by students, which contribute to the enrichment of student life on campus via their involvements in clubs and organisations, and other students' activities or programmes.
Khatun stated that she did not expect to get this award during her convocation as there were other students who also actively participated in numerous on-campus and off-campus activities.
"SEGi provides students with vibrant and encouraging opportunities that promote and nurture student learning, leadership, social responsibility, and interpersonal skill-building as well as self-awareness through experiential learning that helps discover and hone students' true potentials," said Khatun.
"Two of my friends and I led an active life. We participated in many competitions that fit into our passions. The first competition I joined was the 'MICA Culinary Competition 2018' and I have earned a Diploma certificate. It was an unforgettable experience. I also received the Special Appreciation Award 2017 from the Student Affairs of SEGi College Kota Damansara (SCKD) and Event Personality of the Year Award at the 2018 Student Affairs Awards Ceremony," she said.
"Besides that, I also received a token of appreciation for being Vice President 1 in the 2018/2019 Student Representative Council (SRC) and there were many huge campus projects that I have participated as Project Director such as, Women Empowerment Protection Programme 2019 and Bengal New Year 2018/2019," added Khatun.
Khatun believes that her involvement and achievements will aid her in developing a better future and achieving her dreams to be one of the world's top celebrity chefs.
She is currently writing her first cook book, which she targets to launch and publish at the end of 2020. She has also experienced many cooking competitions with the help of Mr. Bonnie Lopez, the SCKD Hospitality & Tourism Faculty Head, who helped and encouraged her to prepare Bangladeshi and Malaysian cuisines at these competitions.
"Last year I went to Sri Lanka to present my version of Malaysian and Bangladeshi food. After this, I will still continue my journey and use the knowledge and skills I have learnt from the lecturers, especially Mr. Bonnie. I am grateful to SEGi for building the talent in me from day one. My lecturers saw the potential in me and believed in me. Despite being a foreign student, I feel so at home and blessed to be here in SEGi," added Khatun.
The SEGi's Hospitality and Tourism programmes available are designed to equip with skills and knowledge that are increasingly in demands. The programmes help to develop wider skills in communication, teamwork, and essential to launch careers and provide a framework for life-long learning. SEGi offers programmes in the areas of Hospitality and Hotel Management, Tourism Management and Culinary Arts. Interested to embark on your journey with SEGi? Visit us at segi.edu.my or contact the campus of your preference, SEGi University Kota Damansara (03-6145 1777 or 011- 1210 6389), SEGi College Kuala Lumpur (03-20702078 or 018-211 8653), SEGi College Subang Jaya (03-8600 1777 or 016-212 9154), SEGi College Kota Damansara (03-6145 1777 or 011-1210 6389), SEGi College Penang (04-2633888 or 013-629 4880), or SEGi College Sarawak (082-252566 or 017-859 2566).
< Back