Committed to reversing the trend of children spending more time indoors due to technology influence and rapid urbanisation, two BA (Hons) Early Years Education (BAEYE) students from SEGi College Subang Jaya were inspired to submit a project paper themed Inspiring Outdoor Learning Experience in the run-up to the 7th Annual Early Childhood Conference 2019, that took place last weekend.
Their passion and dedication proved to be a winning recipe as their projects did not only make it into the Top 8 that were selected as main exhibits for the conference, they also received scholarships from SEGi College Subang Jaya and got the golden opportunity to present their project to over 300 participants at the conference.
Crystal Wong, 21, was elated that her project titled "Mud Kitchen" was among those selected as she was hoping to make a difference in the way children viewed playtime. Her project allowed children to play with the cooking utensil in a make-believe kitchen set made of mud.
"Initially, I faced a lot of challenges. The children who were not used to playing outdoors were staring at me, unsure what to do. Parents raised concerns about it being dangerous and dirty, and teachers were saying they barely had time as they had to complete their syllabus. So, I had a discussion with the principal to see if we can let the children choose what they want to do during their playtime," said Wong.
She added that despite the initial concerns, her project caught on and became a hit and that she was able to teach children lessons that are hardly taught in a classroom setting.
"It helped me as a teacher to understand each child's learning style. We also taught children how to share, and have fun and clean up after their playtime. So aspects like discipline and teamwork were also being addressed," added Wong.
For Loo Sau Fun, 44, an experienced early childhood education practitioner, her project titled "Loose Parts Nature Play" taught children nature-based lessons, particularly how they could use natural elements to create images, games, activities and more.
"I teach at an international school, so we have already had a set standard of balancing playtime and study time. We received excellent cooperation from the school and parents when it came to implementing outdoor learning approaches. We just ensured the children's safety and security were guarded at all times," said Loo.
"My main aim is to teach children that nature can teach us a lot of lessons and hopefully create some positive impact or changes in the curriculum so that it includes outdoor-based learning," she added.
A total of 18 papers were submitted to the panel of judges for this year's conference from private and government preschools, bodies and agencies, including the Ministry of Education. The winning papers were selected based on the uniqueness of their projects and specific learning processes and outcomes that meet the set objectives, which explored current and emerging practices based on themes like Child-Initiated Project Learning, Inquiry-Based Thematic Learning and Inspiring Outdoor Learning Experience.
The 7th Annual Early Childhood Education (ECE) Conference 2019 was a collaborative effort between SEGi College Subang Jaya and Talento Academy Sdn Bhd to share best practices in ECE and engage stakeholders to establish and promote a progressive and innovative culture in preschool education.
Deputy Education Minister YB Teo Nie Ching launched the two-day conference themed "International Curriculum Pedagogy and Implementation", which took place on May 25-26 at Da Men Mall Subang Jaya.
Loo Sau Fun, an early childhood education practitioner is taking BAEYE to get herself some professional qualification.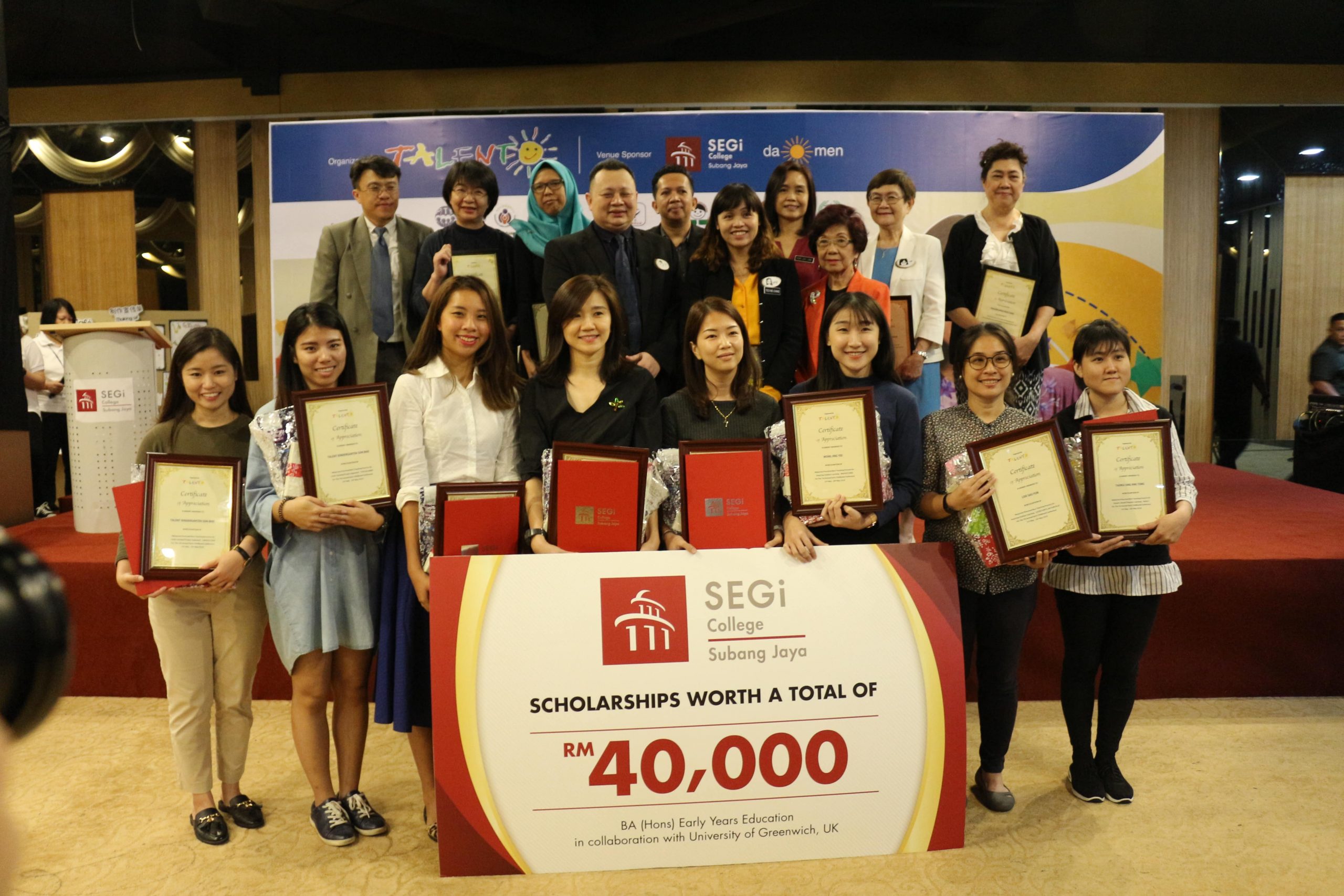 Special award and scholarship recipients posing with Deputy Education Minister, YB Teo Nie Ching during the launch of the 7th Annual Early Childhood Conference 2019.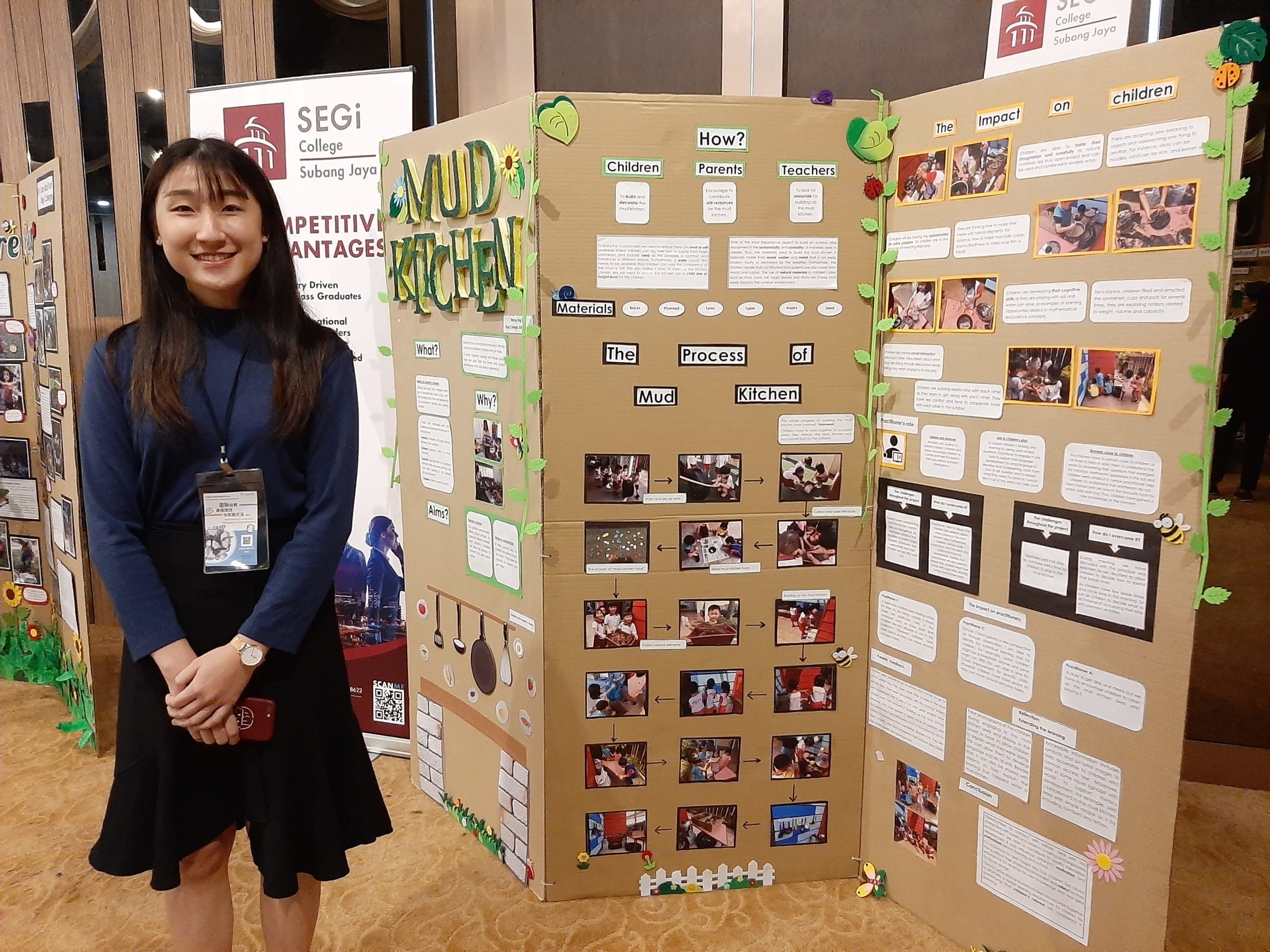 Crystal Wong and her winning project titled Mud Kitchen.