Countless publications and studies have been produced on the importance of diverse and inclusive education and early childhood care around the globe. As a result, positive developments are being recorded everywhere, including in Malaysia.
One such recent development is the Zero Reject Policy, introduced by the Ministry of Education to ensure special needs children are given equal opportunity and inclusive access to education right from the start. While the existing education system is being reviewed and enhanced, there is also an urgent need to equip future graduates with the knowledge and know-how of creating a progressively diverse and inclusive early childhood culture in Malaysia.
With this in mind, SEGi University's Faculty of Education recently organised a Forum titled "Diversity & Inclusion in Early Childhood" to expose students to the different needs of Early Childhood Care and help them uncover challenges of the real world by listening and interacting with industry experts.
Organised by the ChalkZone Academia Club, the forum, which was held on 24 April 2019 at Auditorium C, SEGi University, was graced by three speakers, namely, Puan Rafidah @ Rafizah Ahmad, the president of GAPS (Gabungan Anak-Anak Palsi Serebrum), Ms Lee Voon Yee, a clinical psychologist and Datin P.H. Wong, Child Advocate and Project Director of Childline Malaysia. Over 100 students and staff attended the two-hour event.
Puan Rafidah, whose child Janna Adzly, was diagnosed with Cerebral Palsy (CP), spoke primarily on her experience handling Janna from the stage of birth to now. She discovered early detection signs of CP, her treatment goals for Janna, equipment and devices necessary, and why there should be more CP advocates in Malaysia.
"A lot of teachers don't know how to handle children like Janna. They would leave her alone while the rest of the students are involved in some form of activity. Janna would feel left out and would refuse to go to school. Another challenge is therapy. Children with CP need a lot of intervention therapy. There needs to be a balance between physical activities and academic exposure, and it's important to have these physical therapies or activities integrated into the education system to help children with CP," said Puan Rafidah as she shared her experience.
The second speaker Ms Lee, who has had extensive experience in handling young patients with neurodevelopmental and behavioural issues, briefly shared that diversity and inclusion have been discussed. A lot of good work has been put in place to improve the current education system, but there continues to be a shortage of teachers with skills to handle special needs children. Besides that, there are also strong stigmas and labelling that dampens the spirit of the child and parents.
"I agree that special needs come with a special price. Every intervention and therapy needs money, and parents need a lot of psychological support as well…upon assessing and diagnosing the child, we have to work with various groups of people, including pre-school teachers, to explain their needs. And hopefully, find a suitable intervention plan for them," explained Ms Lee. She added that the stigmas must also be stripped away, and perceptions must change to help establish a cohesive environment for all.
On the other hand, Datin Wong raised many questions and case studies on quality Early Childhood Care and Education (ECCE) and brought up important concerns such as the lack of qualitative and quantitative data and evidence-based research that support advocacy for ECCE.
"Inclusion is all about belonging and participating in a diverse society. Inclusion is also about beliefs. The beliefs about early childhood from families and professionals are fundamental, and if you yourself do not believe in inclusion, it is not going to happen."
"If you know the CRC (Convention on the Rights of the Child), it says that all children in Malaysia must have access to quality ECCE. Since this year is the [email protected], I hope SEGi University students would use the CRC tagline to push for changes," said Datin Wong, who went on to share about successful advocacy work carried out by Childline Malaysia and present some findings that supported the need for a culture of inclusion in Malaysia.
The forum ended with some thought-provoking question and answer session between the students and speakers and the presentation of a goodwill donation to GAPS worth RM2,700. Students and lecturers collectively raised the money from the Faculty of Education.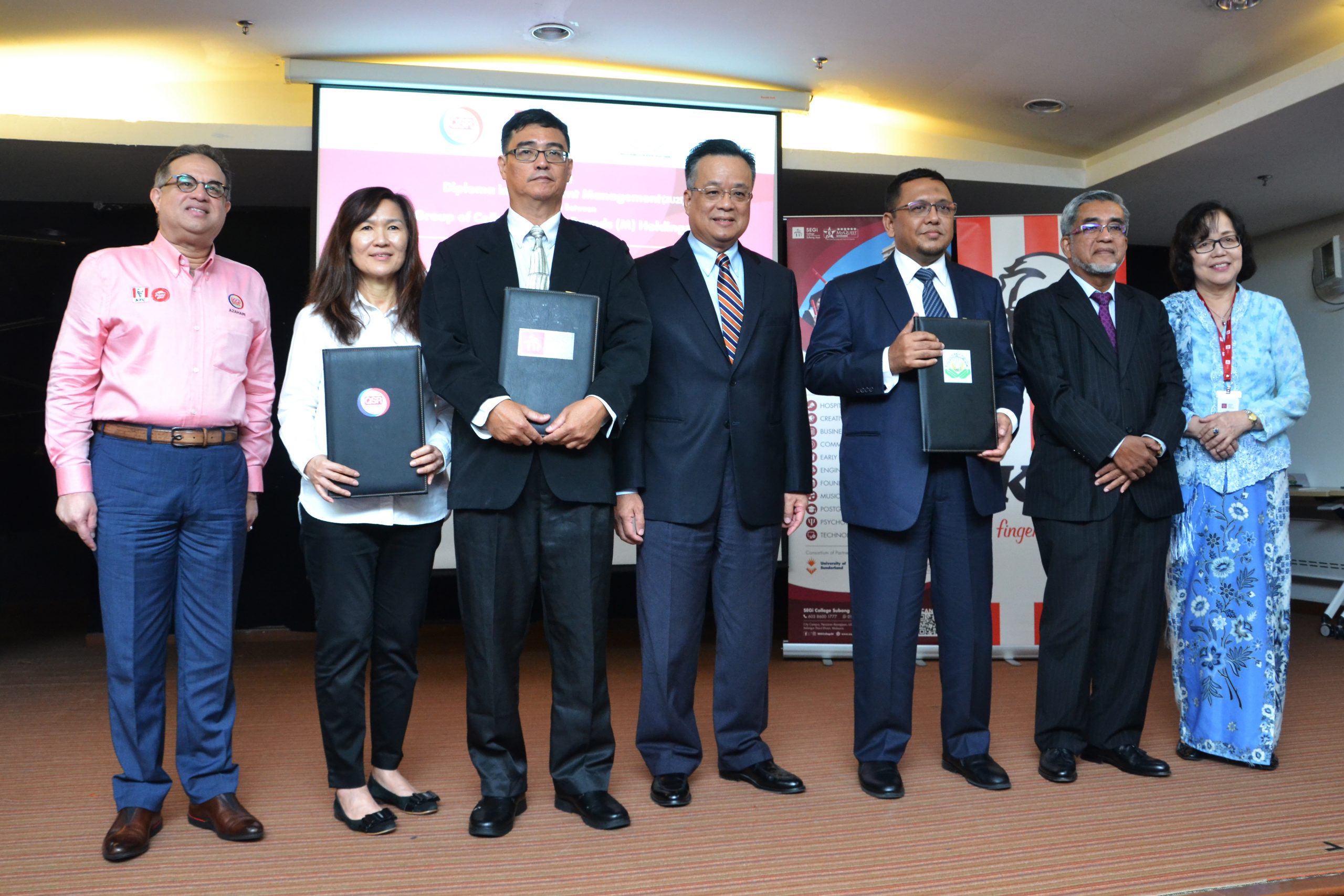 A photo session with speakers, students, staff and guests of the Diversity and Inclusion in Early Childhood Forum.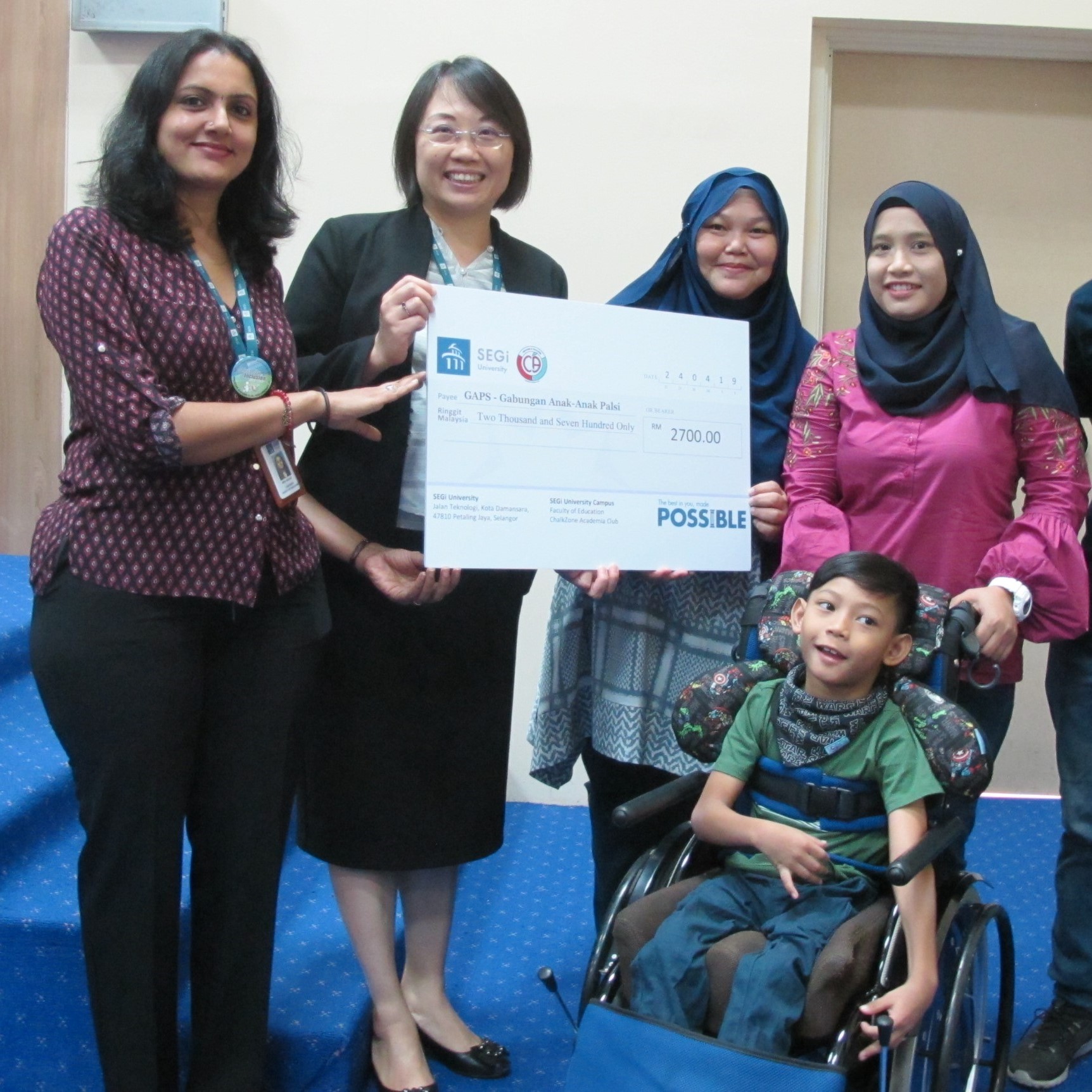 (from left) Priya Vijayan, Lecturer from the Faculty of Education and Dr Lydia Foong, Dean of Faculty of Education handing over a mock cheque to GAPS President Puan Rafidah (centre) and a family with a special needs child.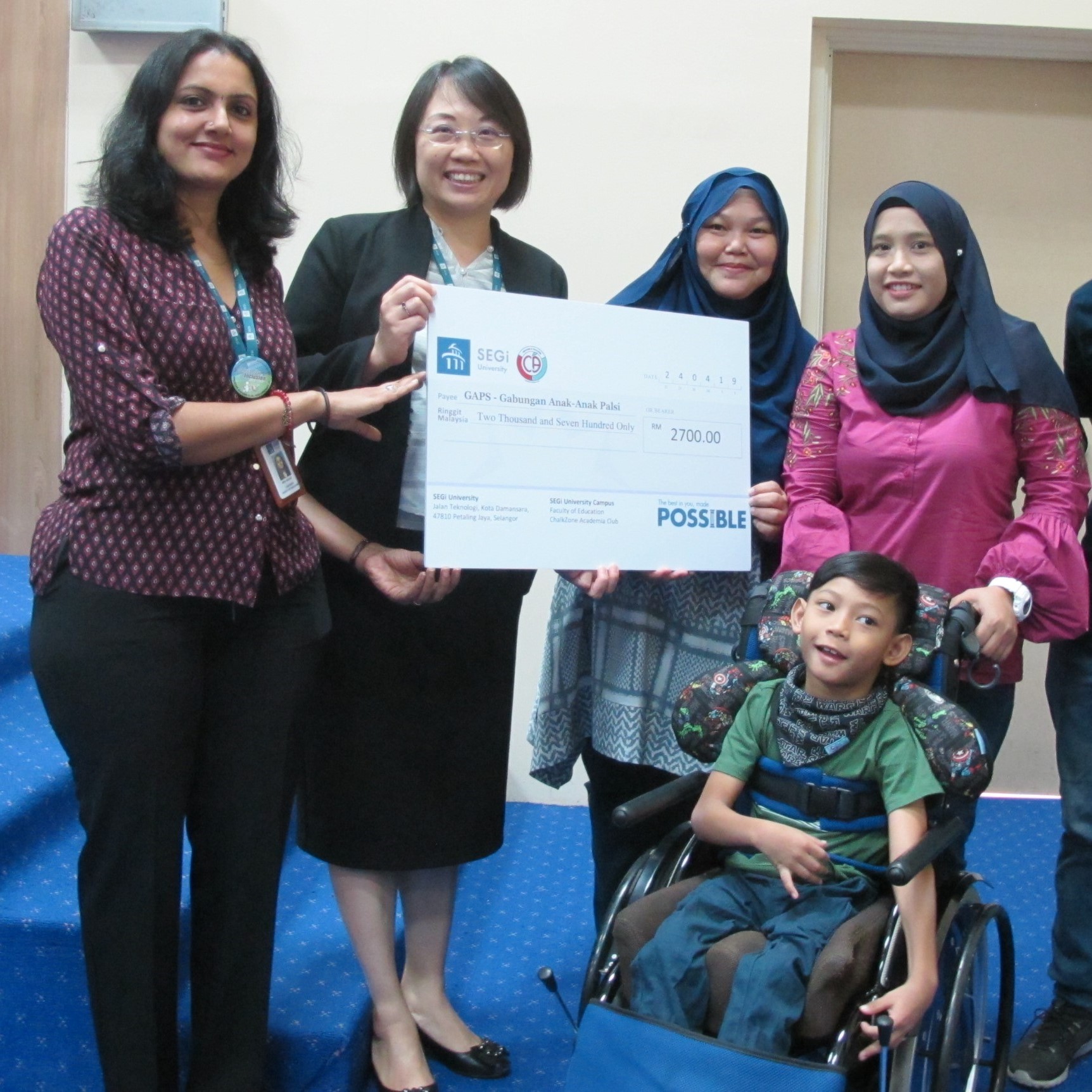 Forum speakers (from left) Datin P.H. Wong, Ms Lee and Puan Rafidah addressing questions from participants.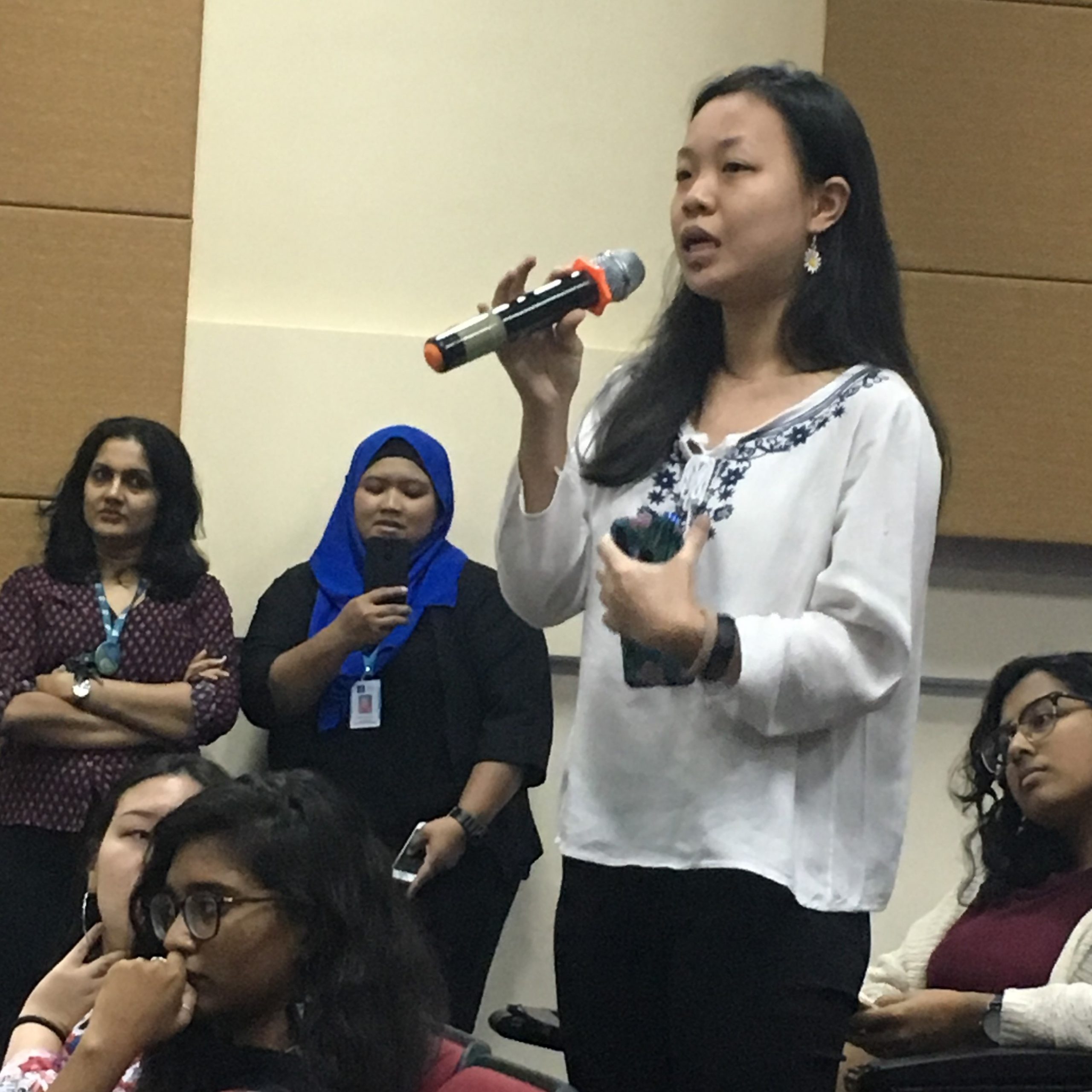 The forum ended with a thought-provoking Q&A session between students and speakers.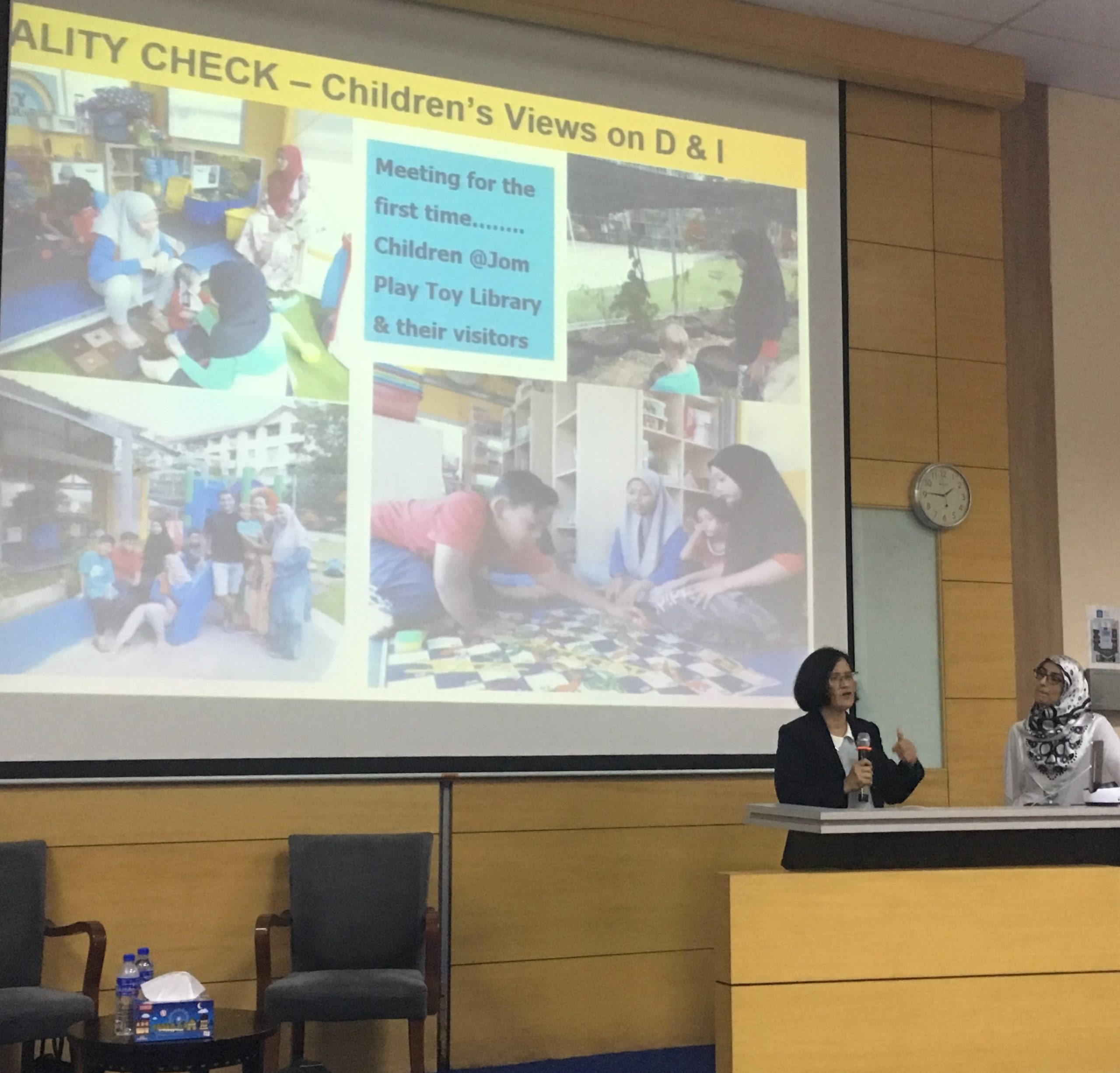 Datin Wong sharing intervention initiatives done by her child advocacy organisation Childline Malaysia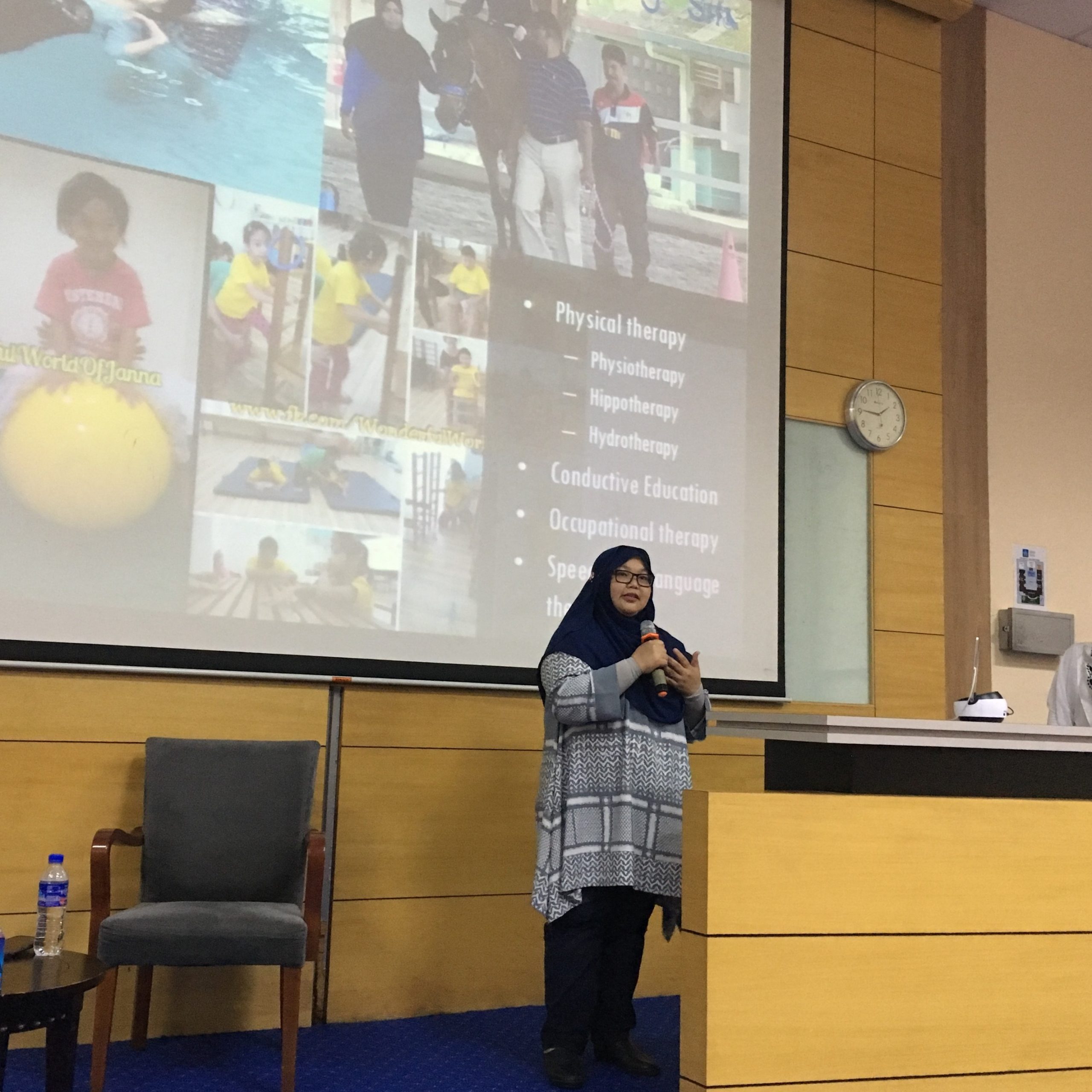 Puan Rafidah sharing her experience handling a child with CP.