A common saying in Malay goes, 'If you don't know it, you can't love it. So, in conjunction with the 62nd National Day celebration, SEGi College Kuala Lumpur (SCKL) had organised a Merdeka Treasure Hunt 2019 to celebrate the spirit of patriotism, friendship and unity among Malaysians.
The event, held on 24th August 2019, was flagged off by Lembah Pantai MP, Yang Berhormat Tuan Ahmad Fahmi Mohamed Fadzil at SCKL. The entire hunt covered six locations that lie close to the campus in Jalan Hang Lekiu.
It was also attended by SEGi University & Colleges Senior Group Executive Director, Mr Daniel Teng, SCKL Principal, Mr Sri Jaiandran Munusamy, SCKL Head of Student Affairs, Ms Sivadharmi Ramakrishnan and SCKL Assistant Manager of Bursary Credit Control, Mr Kwa Kheng Sun.
The walk hunt had 23 teams of four to see, understand and appreciate the beauty of Kuala Lumpur, its rich history, culture, and traditions. It also provided them with the space to socialise, help each other, demonstrate respect and have loads of fun as they scavenged for hidden clues and 'treasures' around the city.
Participants in their respective teams scoured through several locations within the city solving puzzles, answering quizzes and completing specific tasks of varying levels of difficulty to compete for the cash rewards.
The teams had to decipher the clues received at each station, complete a task to receive their next clue and travel by foot and were not allowed to use any public transport or e-hailing services throughout the hunt before making their way back to SCKL for the closing ceremony.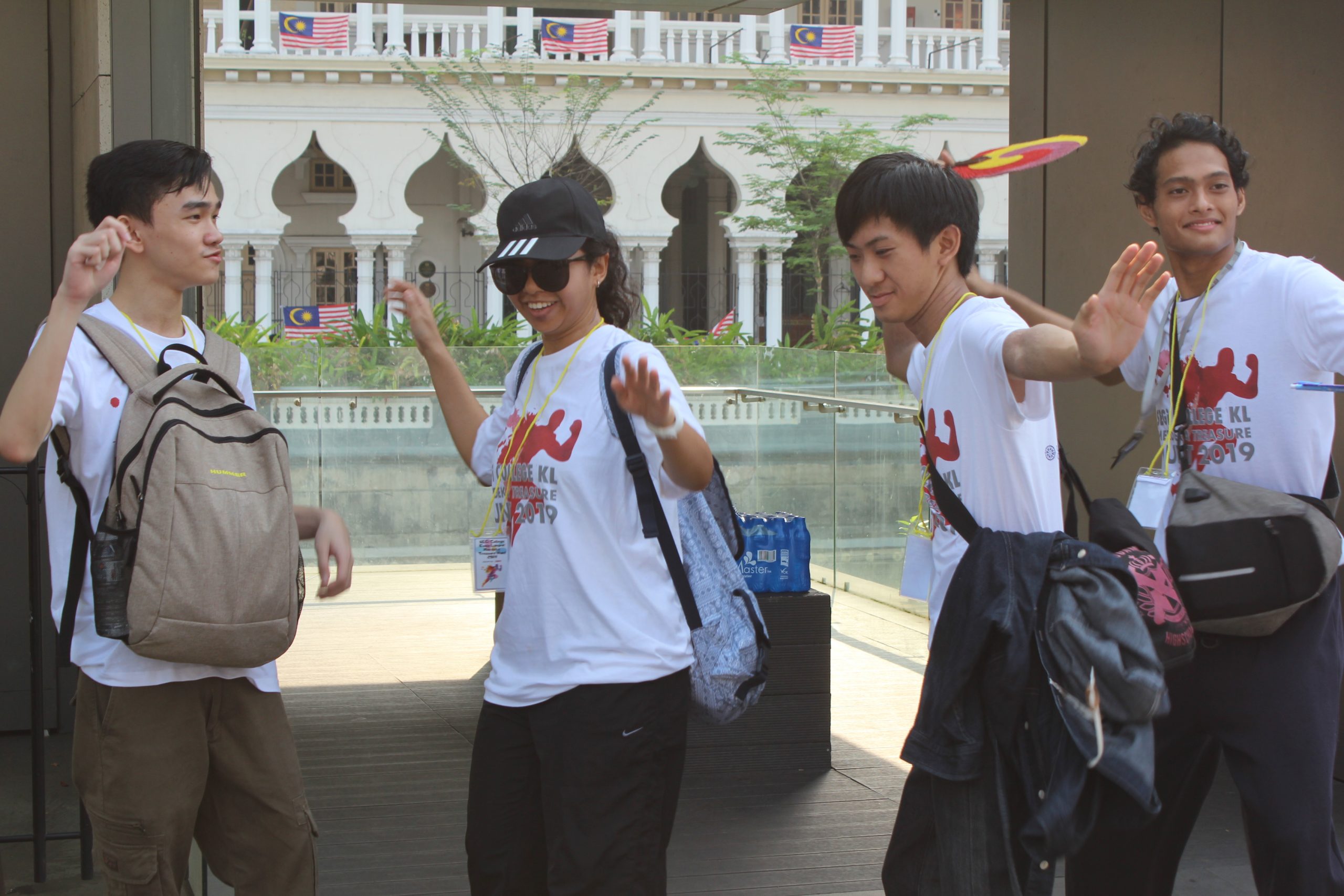 Caption: Participants attempting to perform a Chinese cultural dance at the River of Life KL, one of the stations for the SEGi Merdeka Treasure Hunt 2019.
SCKL students David Mahendran, 21, Careven Lau, 19, John Henry, 24 and former student Nikita Prasad, 19, emerged the overall champion winning RM1,500. The second-place winner received RM1,000 and while the third and consolation prize winners got RM800 and RM400, respectively. All winners also received a medal and a certificate.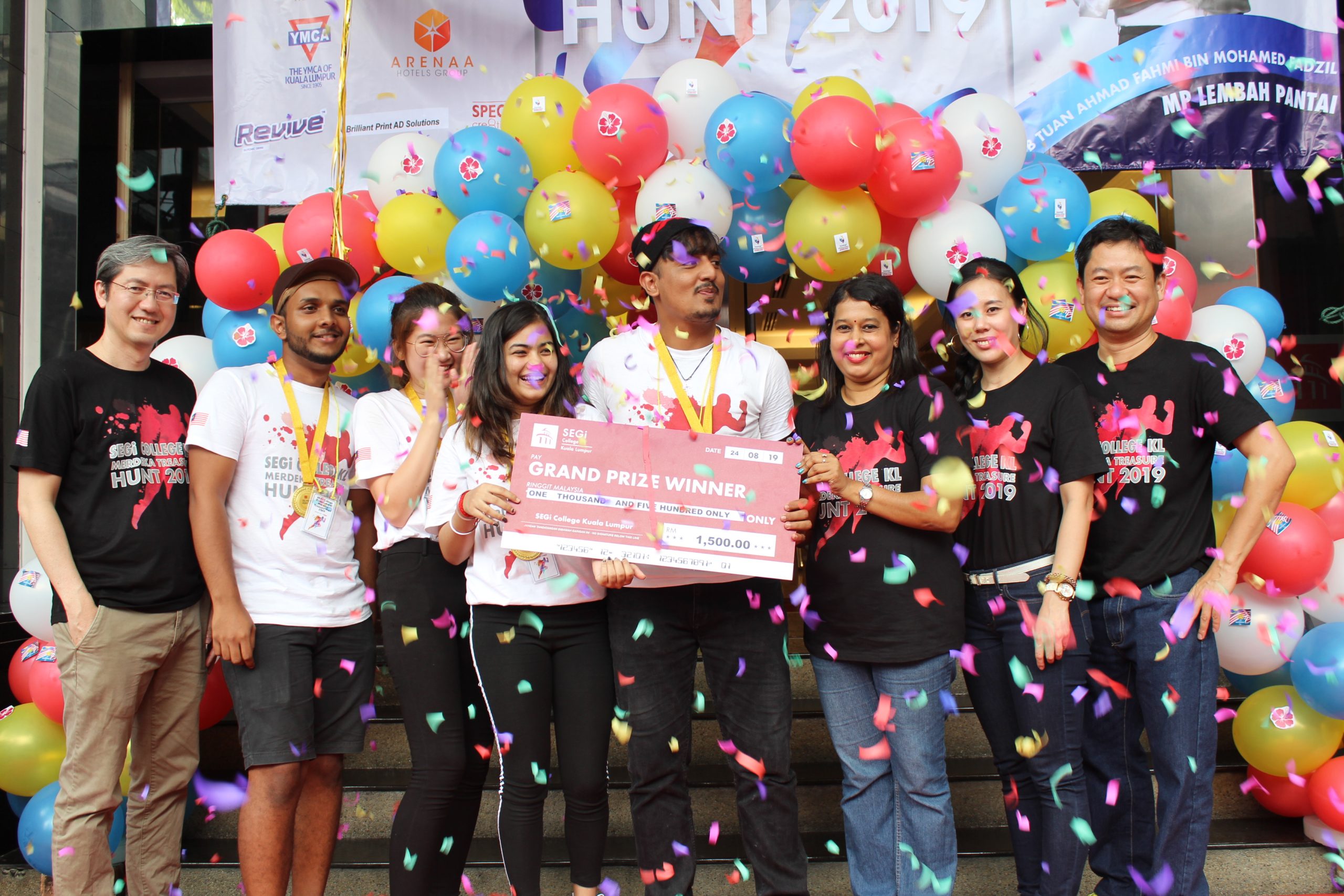 Caption: Gold Winners of the Merdeka Treasure Hunt 2019, John Henry (second from left) with Careven Lau, Nikita Prasad and David Mahendran.
The clues and tasks that were given not only tested their knowledge about Malaysia's history and culture but also presented an opportunity for them to exhibit teamwork, the spirit volunteerism and community engagement, and camaraderie despite being in a competitive state.
"We worked as a team. There was no such thing as just one person doing all the jobs. We started motivating each other and we just never gave up. We knew we had to work together but we realised how important it was to be motivated as a group and we pushed through from there," said the winning team lead, David Mahendran.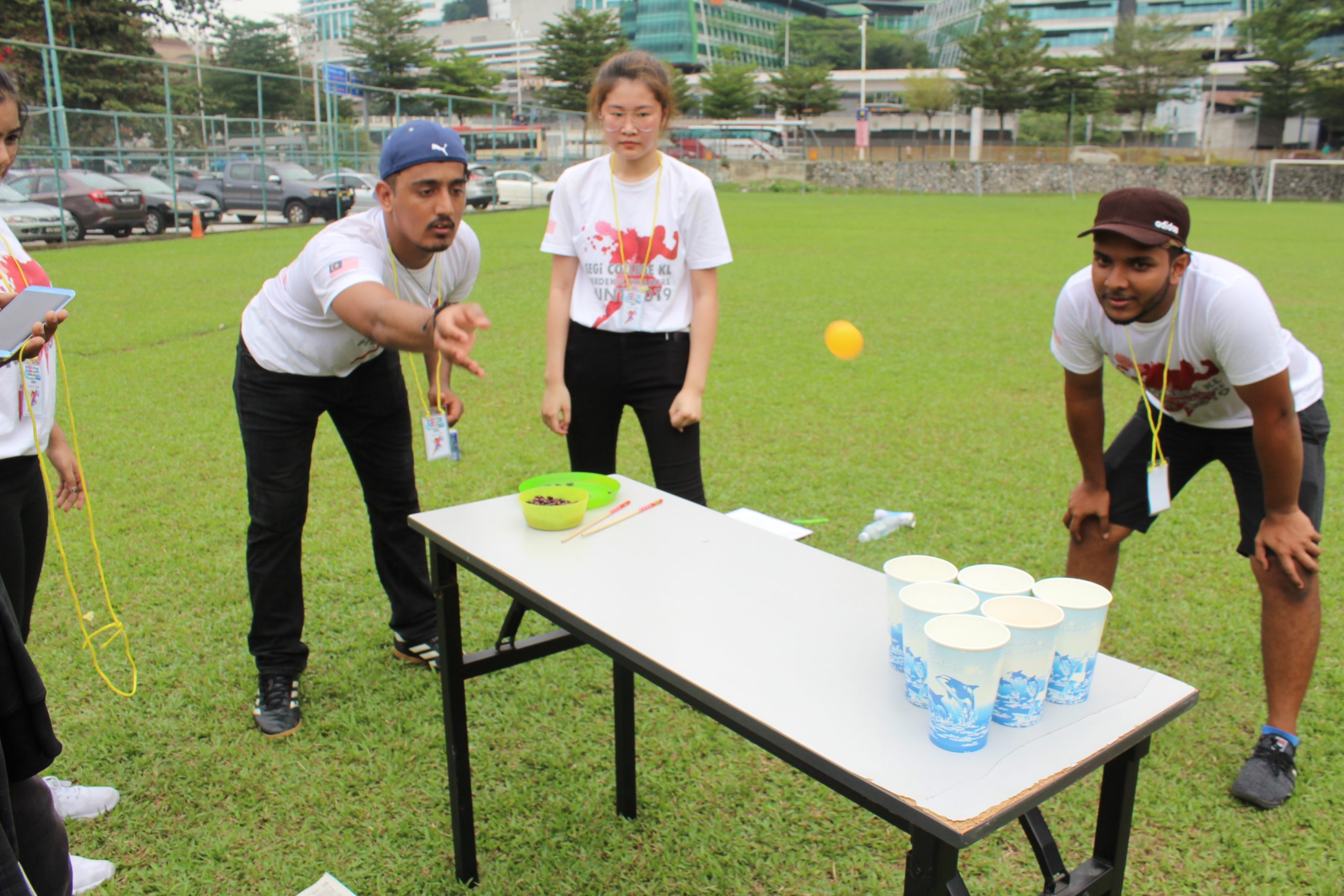 Caption: Participant David Mahendran, trying to bounce a ping pong ball into the paper cup at the YMCA station.
SCKL Principal, Mr. Sri Jaiandran Munusamy said the Merdeka Treasure Hunt was organised to bring Malaysians together, test their knowledge and spirit and at the same time, raise civic consciousness and educate them on the importance and value of team spirit, togetherness, volunteerism, and unity.
"Since SEGi College KL is located in the heart of town, we wanted to seize the opportunity to showcase the beauty of Kuala Lumpur which still retains some olden day charm amidst aggressive modernisation."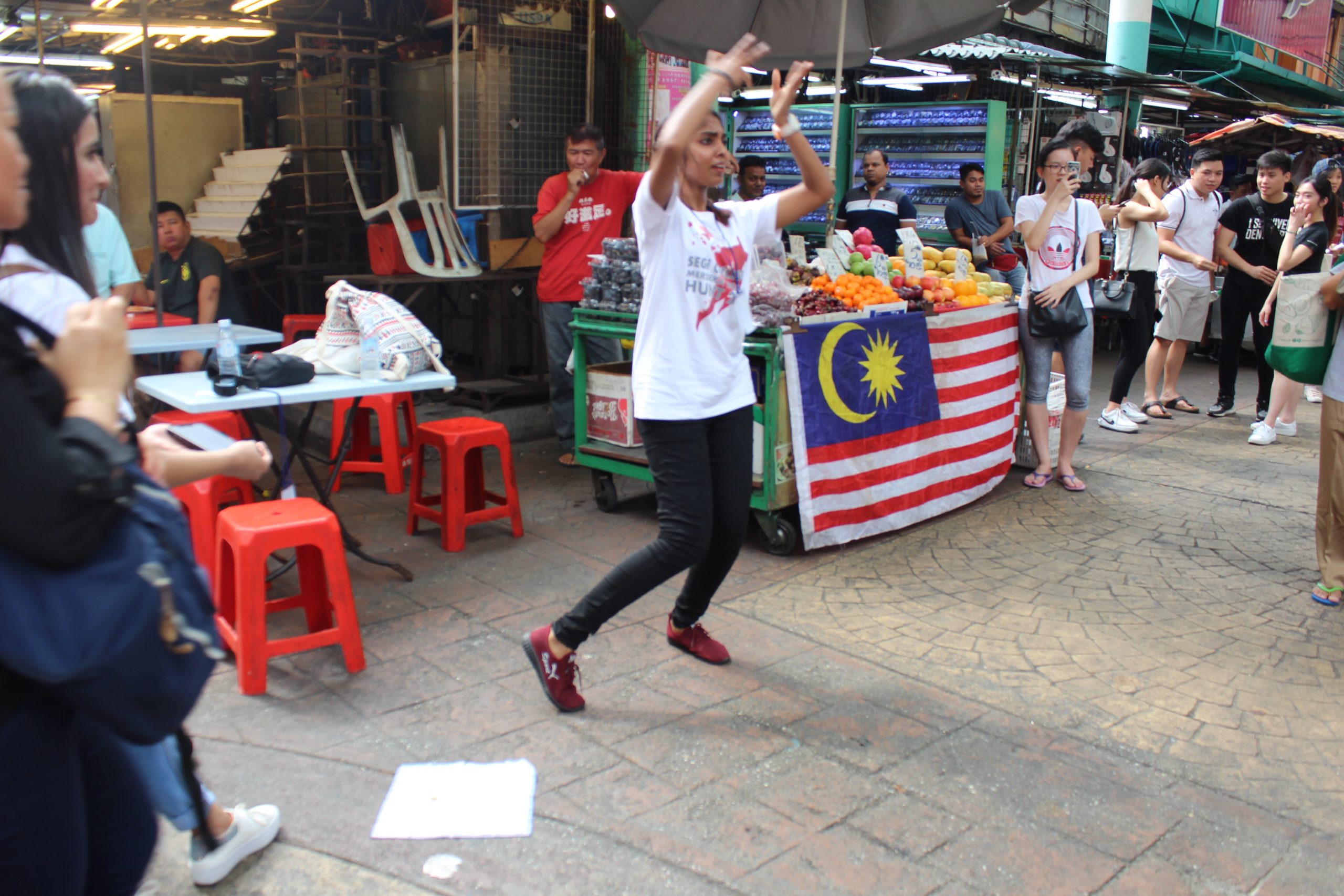 Caption: One of the participants attempting to attract the attention of tourists in Petaling Street. Participants had to earn RM10 by showcasing a talent. The money is then used to buy several items at the next stop.
"We are surrounded by heritage buildings and businesses that have existed for generations on one side and world-class amenities on the other. We also have mosques, temples, and churches that are located close to one another and a thriving commercial and financial hub that envelopes the city. KL has so much to offer and we wanted to show our Merdeka spirit by encouraging more Malaysians to explore the city and learn a thing or two about our rich history, cultures, and traditions," he explained.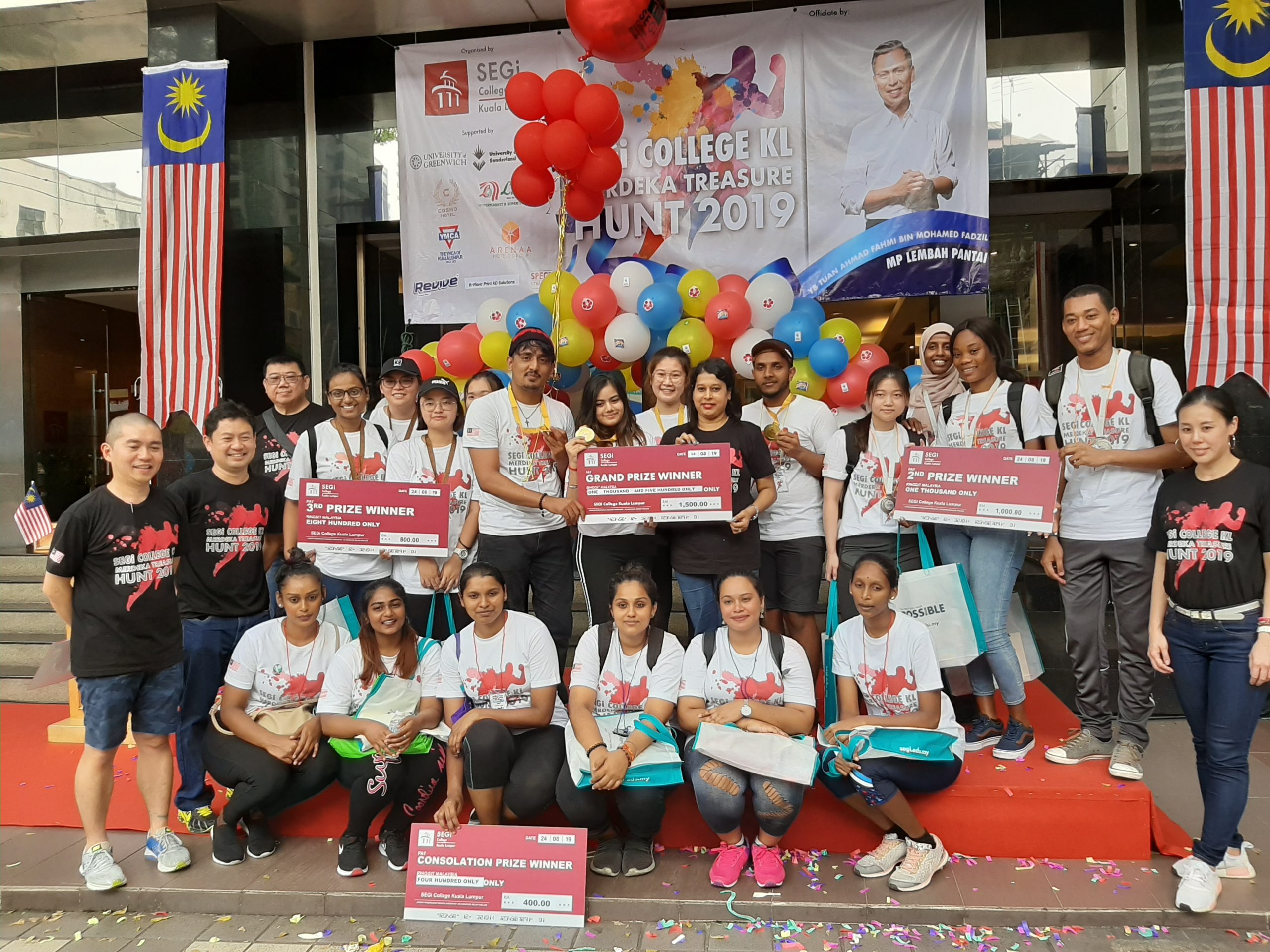 Caption: Winners of the SEGi Merdeka Treasure Hunt 2019 with Ms. Sivadharmi (standing 7th from right) and organising committee members.
To correlate with this year's Merdeka theme, 'Sayangi Malaysiaku, Malaysia Bersih', the Merdeka Hunt infused elements of love, cleanliness, loyalty, sincerity and responsibility within its challenges and clues that gave both participants and the organising committee, which was mostly made up of students, a sense of ownership and care.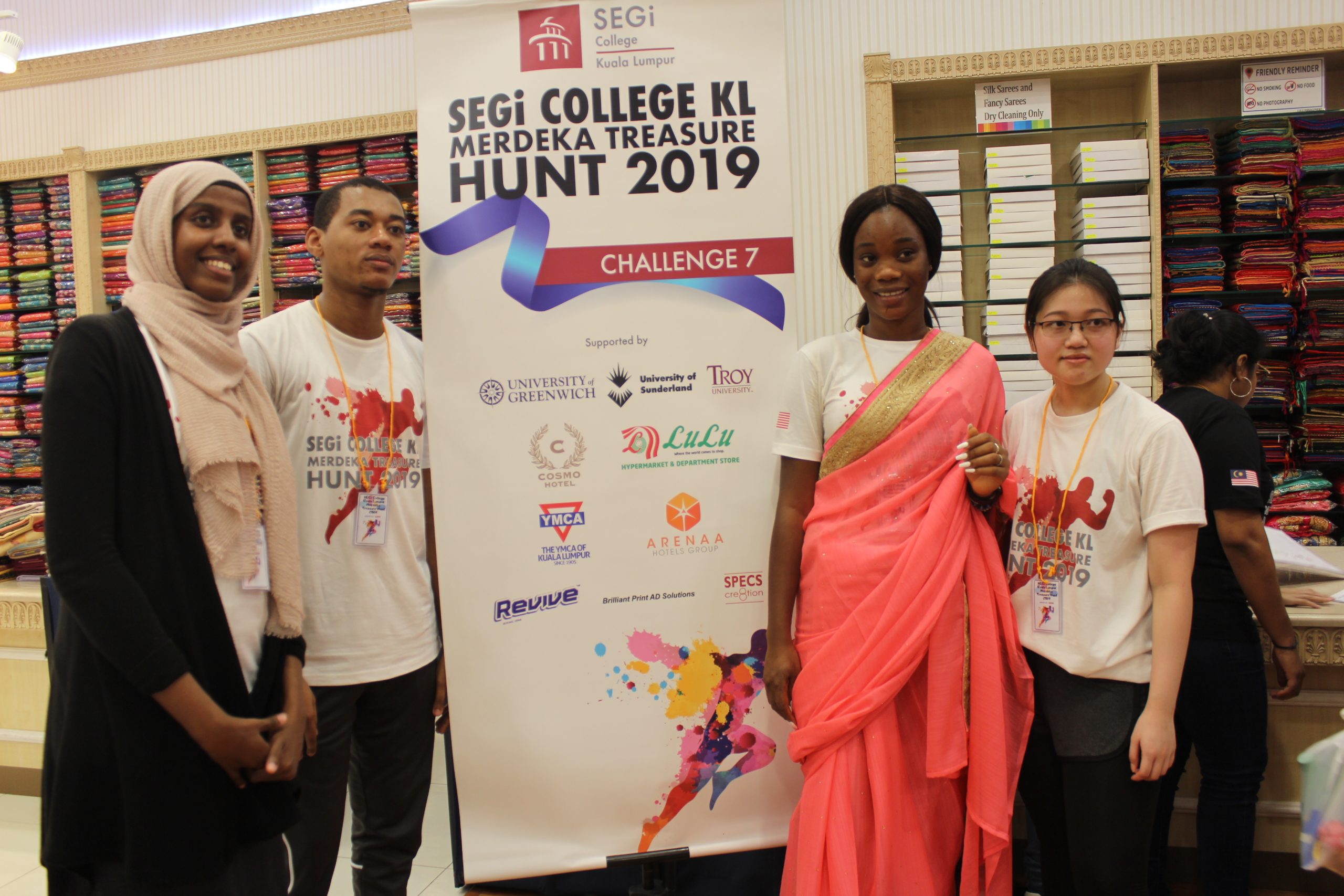 Caption: Foreign students' team successfully completed the Saree Tying Competition at Lulumall Hypermarket & Department Stores KL.
The event was supported by SCKL's partner universities, namely the University of Greenwich, University of Sunderland and Troy University, Cosmo Hotel, Lulu Hypermarket & Department Store Kuala Lumpur, YMCA, Arenaa Hotels Group, Revive, Brilliant Print Ad Solutions and Specs Creation.
Ends/