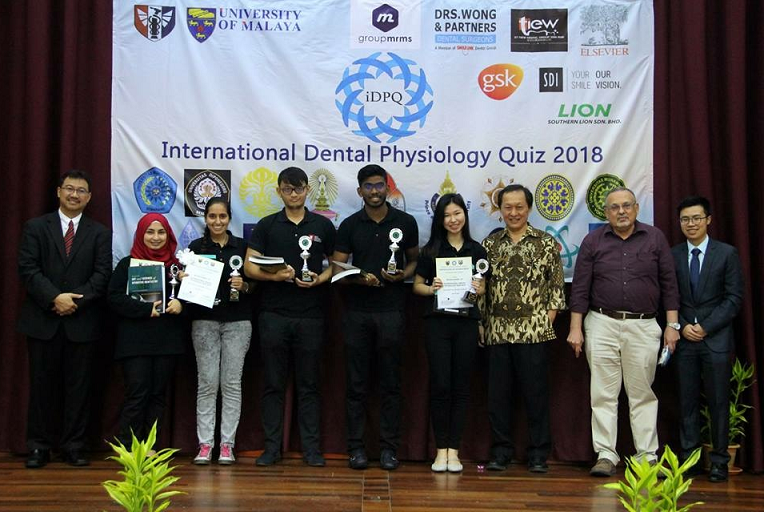 SEGi won 3rd place in International Dental Physiology Quiz 2018
On the 3rd of November 2018, SEGi University fielded a team of five third year dental students for the International Dental Physiology Quiz 2018, which was held at Balai Ungku Aziz, Faculty of Dentistry University of Malaya (UM), Petaling Jaya, Selangor. This annual event was organised by Persatuan Pergigian UM (DENSOC) and the students were accompanied by Associate Prof. Dr. Mohamed Magdi, a lecturer from Faculty of Medicine, SEGi University and Mrs. Sulinda Daud, Co-Advisor for SEGi Dental Society (SDS).
A total of eighteen universities participated in the event, including local and international universities, such as; Universiti Sains Malaysia (USM), University Sains Malaysia (USM), International Medical University (IMU), MAHSA University, Prince of Songkla University, Thailand, Universitas Gadjah Mada, Indonesia and many more.
According to Mrs. Sulinda, this experience will help students to enhance their knowledge and understanding of how physiological concepts are applied in daily life and in clinical dental practice. In this quiz competition, the questions covered how the normal and abnormal physiology affects dental care and its treatments, as well as its implications of dental interventions on the body's functions.
"3rd place out of 18 Universities is a huge achievement for our students, the Faculty of Dentistry (FOD), and SEGi University. This shows the impact and the teaching effectiveness of our lecturers and our students' commitment and hard work in preparation for the International Physiology Quiz 2018. With the strong support from FOD Dean, Physiology Lecturers from the Faculty of Medicine (FOM), and SEGi Management, our students succeed to win third place. All their hard work paid off!" she added.
The first-place winner for the competition was University of Malaya (UM), and Universiti Kebangsaan Malaysia (UKM) won second place.
SEGi's Dental Team (name of the winners):
1. Avinash Sri Kantha – Year 3
2. Chan Wan Yee – Year 3
3. Chan Yi Zhong – Year 3
4. Sara Luay Thanoon – Year 3
5. Ishvinder Kaur Virk A/P Kaldip Singh Virk – Year 3
Moreover, Chan Wan Yee, one of the members of SEGi's Dental Team said, they are grateful and feel honoured to be given the opportunity to represent the Faculty of Dentistry, SEGi University. She added, "We just started our clinical practice during that period of time. We were quite busy dealing with the patients despite having classes from 8am to 5pm almost every day. So, it was quite tiring and challenging for us to handle the quiz and clinic works at the same time. However, we were fortunate enough and able to overcome it because our mentor, Prof. Magdi motivate and guide us throughout the way. We revised the topics together with Prof. Magdi and this has made things a lot easier. We would like to express our gratitude to him."
Congratulations to SEGi's team!
< Back