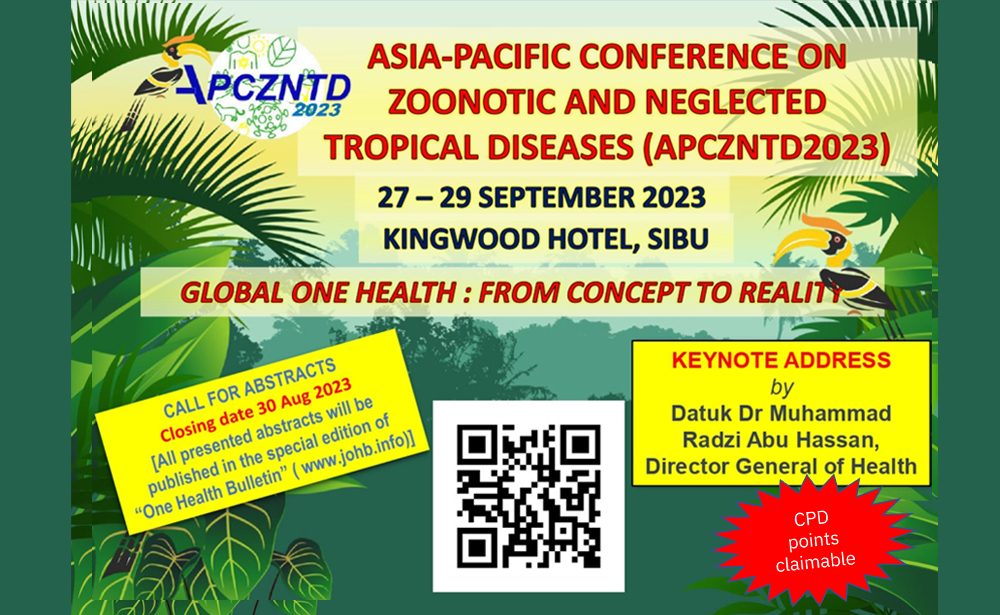 Themed "Global One Health: From Concept To Reality", the Asia-Pacific Conference On Zoonotic And Neglected Tropical Diseases will be held to meet these objectives:
To raise awareness of zoonotic and neglected tropical diseases among healthcare professionals and the public.
To enable information sharing among experts internationally and locally towards prevention, control and treatment of zoonotic and neglected tropical diseases.
To provide an avenue for networking among healthcare professionals and researchers in the area of zoonotic and neglected tropical diseases.
Who should attend?
Clinical and Public Health Specialists
Doctors
Researchers
Academicians
Nurses and Assistant Medical Officers
Allied Health Professionals
Veterinarians
Pharmacists
Policymakers
The three-day conference features a packed schedule, which includes various plenary sessions, specialty symposiums, oral and poster presentations, and more! Abstract submission ends 31 August 2023.
Book your seat now! Visit https://apczntd.com/v1/ today.
🗓️ Date: 27 – 29 September 2023
⏰ Time: 8am – 5pm
📍 Location: Kingwood Hotel, Sibu, Sarawak