SEGi University First Class Honours degree graduate from Bachelor of Chemical Engineering with Honours, Chwa Li Anne received the Gold Medal Award 2021 from the Institute of Engineers Malaysia (IEM) for her outstanding academic achievements.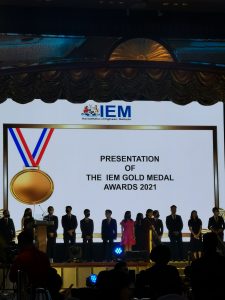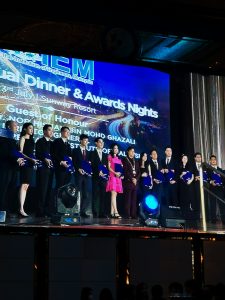 The award presented by the Council President of IEM, Ir. Prof. Dr Norlida Buniyamin, at the 63rd IEM Annual Dinner & Award Night 2022 held at Sunway Resort Hotel & Spa. It is awarded to the best final-year engineering student in every local institution of higher learning. Chwa continuously demonstrated remarkable performance throughout her academic degree, with a 3.96 CGPA and excelled in her final year research project.
Under the supervision of Ts. Dr. Lim Mee Wei, a senior lecturer in the department of Chemical Engineering at the Faculty of Engineering, Built Environment & Information Technology (FoEBEIT), Chwa's research project focused on integrating chemical engineering analytic techniques with agriculture practices on hydroponics.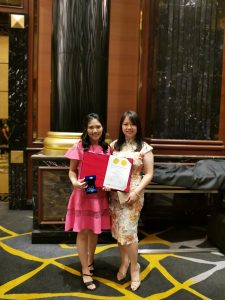 Chwa's research topic entitled 'Effect of Varying Light Spectrum on the Antioxidant Levels of Hydroponically-Cultivated Red Leaf Lettuce Plants' covered an extensive study of physical and chemical responses of plants to changes in the electromagnetic spectrum in the visible light region. Her research work was in-line with the Sustainable Development Goals (SDG) 02 – Zero Hunger, which promotes sustainable agriculture practices to eradicate world hunger.
Due to her academic excellence, Chwa successfully secured an Application Engineer position at Leistritz South East Asia, within three months upon her graduation. Leistritz South East Asia is a global group of companies with a specialty on turbine, pump, extrusion, and production technology under the umbrella of Leistritz AG.
Chwa's job responsibilities include providing technical support and design solutions in the project from feed to tender stage, training to external customers, and interface with cross-functional work teams such as field applications, customer support/services and marketing/sales for the business.
SEGi academic team at FoEBEIT congratulates Chwa Li Ann on her remarkable achievement.