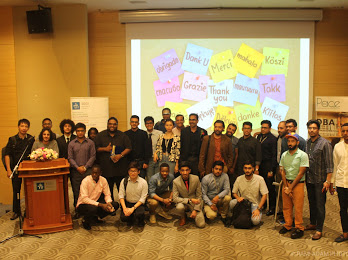 Creative Thinking in Business - A Student Enrichment Program (SEP)
The SEGi Enrichment Programme (SEP), has been created specially to provide our SEGi students with opportunities to enhance their soft skills through structured and well-designed seminars, workshops, conferences and symposiums. Students' today are seeking better quality education. Enriching the students through industry practices, SEGi is fulfilling its vision of placing quality education by developing natural talents that conform to industry requirement.
"Creative Thinking in Business" seminar was organized by the academic team members headed by Dr. Sugumaran Selladurai the Dean, Faculty of Business, Accounting and Management (FOBAM) and students from FOBAM on 16th April 2018 at Auditorium SEGi University Kota Damansara. The event was officiated by Professor Dr. Azrin Esmady Ariffin; Deputy Vice Chancellor, Student Affairs of SEGi University and was attended by 200 students from SEGi University, Kota Damansara.
As part of the SEP, the FOBAM Faculty members had the privilege of inviting two honourable industry captains to share their knowledge and wisdom. The first speaker Mr.Vishal J. Singh, a consultant at Solar Design Services and the second speaker Mr.Prasath Kanagaras, Managing Director, Point Blank Mediaworks Sdn Bhd who are successful leaders in this profession, presented their views and valuable experience on "Creative Thinking in Business" to the students of SEGi University. They had vast experience in providing colorful solution in the field of creative thinking.
Creative thinking is a popular topic within academic and business world. It is a way of looking at problems and situations from a fresh perspective that suggests unconventional solutions or a new solution. Moreover, it can be stimulated both by an unstructured process such as brainstorming and by a structured process such as lateral thinking.
Generally, creativity thinking means, the ability to imagine or invent a new product or service. It also means the ability to generate new ideas by combining, changing, or reapplying existing ideas and the attitude to accept change and new ideas, a willingness to play with ideas and possibilities, flexibility of outlook.
Past research studies have shown, creativity is the key to career success. Almost 9 out of 10 professionals overwhelmingly agreed that creativity is required for economic growth, and is valuable to society. 78% said it is important in their career. A large majority (78%) wishes, they had more creative ability to perform better in their work. In short, creative thinking is very important for career development and success.
The next important question is, how do we encourage creative thinking? The professionals recommended that creativity and creative thinking deserve a bigger role in education, therefore it is best to start at the undergraduate level. Hence, the students of SEGi can be proud that they have rightly chosen an interesting and relevant program to attend.
The first guest speaker Mr.Vishal J. Singh, highlighted some of the 'take home notes' for the students. He said that sometimes to be creative, you really have to open up your mind to the possibilities out there. So, how do we get creative? "To be an interesting person, you must do interesting things". For instance, in the field of architecture, "To be an interesting designer, you must do interesting designs". Even simple things like lanterns, umbrellas, balloons, tables, chairs and even music can transform the public space where you stay. But again, when can you start to be creative? According to Mr Vishal, just outside your house is good enough. A mini-park outside your home perhaps? A little landscaping with a place to sit isn't a bad idea in order to be creative. What's important here for the creative mind is to stay focused and intensity. And that's when things will really get interesting to you.
The next important thing to take note is that "Connections are everything" in order to become creative. Go and network. Go meet people wherever you can. Go to dinners and parties. Go to networking and social events. Go to conferences, symposiums, exhibitions and most importantly travelling. In a word, Go. The networking established out there will lead to an amazing moment in life. In Mr Vishal's case, through networking, he was able to be involved in creatively designing houses, eateries, hotels, offices and emcee events. With all these journeys and events, he emphasized that today's youth should do that too in order to be a truly creative and vibrant person.
The second guest speaker Mr.Prasath Kanagaras, highlighted some of the 'take home notes' for the students. He said that, creative thinking in business holds a huge responsibility to the business industry. But why creative thinking? Because it helps to see opportunities in the marketplace or come up with a unique solution to a problem. Creativity is the key to innovation. It stimulates the brain and helps to wake up and pay attention. Creative thinking helps to keep business presence fresh by shifting perception to lift better understanding of customers' point of view. Through creative thinking, one will have a higher tolerance for risk — learn to work through fear of failure, improve leadership skills and provide a broader vision of what it means to be successful in business. Creativity invites flow and feels good, and when you feel good, you attract your ideal.
The following question is does creative thinking hold a huge responsibility to the business industry? According to Mr.PK's theory, the methodology used are Rethink, Imagine, Analyze, Ideate and Create. Mr PK also mentioned some of the issues arises in today's industry can be categorized into five aspects known as Quality Education- students are not polished with the proper internship, therefore remain unexperienced. Generation gap - Gen X vs Millennials is not over yet! Employment crisis- the demand and deliverables are still not balanced. Job loyalty is another set of issues being faced. Competitive advantage- the world is moving too fast and staying up to the future modifications is highly required. Digital World- the scope is bigger with the rise of Digital Market. The Global access is too easy, and the increase of entrepreneurs are beyond imagination. In addition to that, Mr PK also highlighted some of the key questions that every youth should ask which are as follows: How knowledgeable are you in the industry? Who are the major market players? What are the missing pieces that can be solved? What are the RISK factors? Do you have experts to consult and discuss? SWOT. Moreover, some of the practical tips that Mr PK also shared to the students that customer insight is the key to success. Constant development is always required.
The feedback that was obtained from the SEGi students was beneficial because this seminar has added value in their education and also in their career building. In addition to that, the event also enabled the students to grab the opportunity to develop their creative thinking and to understand the need for innovation in a business context. With this in mind, it will help them to develop the skills to manage the process of creative thinking and innovation in the context of the firm. At the same time, this talk also helps the students to gain an understanding of the importance of strategy and innovation in an organization and to equip the students with the ability to formulate innovative business strategy in the highly competitive edge.
The organizing team members were led by the FOBAM Lecturers Ms. Sudhashini Nair and the committee members involved are Ms. Harjinder Kaur, Ms Dilashenyi Devi, Ms. Mathavi, Ms. Dineswary, Ms. Suguna, Ms Noor Ain, Ms. Sandra, Ms. Uma Murthy, Mr Paul Anthony, Mr Gopal, and Mr Ravindran. The top level Management appreciated all the academic teams at FOBAM despite their tight lecture schedules in organizing an impressive talk under the SEP program. Well done SEGi!!
< Back